Your Investment in Healthier Waterways for Alexandria
Content
AlexRenew Two-Year Rate Increases for RiverRenew
Image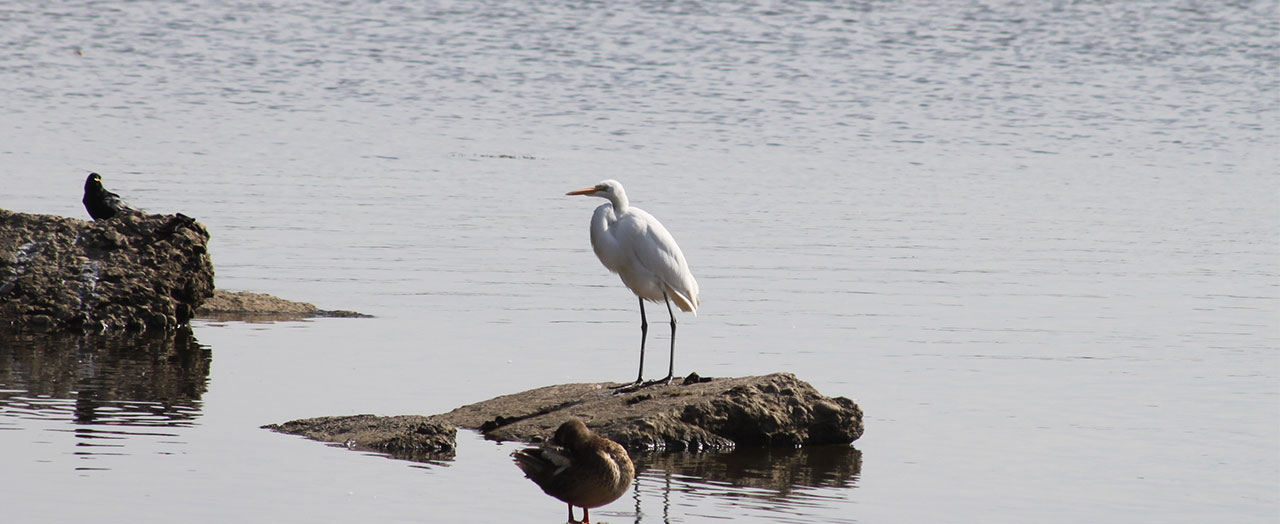 In April 2017, the Commonwealth of Virginia passed a law that requires Alexandria to remediate all four of its combined sewer outfalls by July 1, 2025. In response to the new law, and with support from the City of Alexandria, AlexRenew is implementing the RiverRenew program. RiverRenew will construct a deep underground tunnel system to prevent sewage mixed with rainwater from entering our waterways in Alexandria. 
To pay for this significant investment in the health of our community's waterways and ongoing wastewater operations and investments, AlexRenew will implement rate increases for the next two fiscal years, starting on July 1, 2019 and July 1, 2020, respectively. Our residential customers will see an increase of approximately $55 per year in their bills (a total of $110 over two years), or just under $5 per month for an average homeowner each year.  To understand how much you may be billed monthly for wastewater services, we created a rate estimator to help you. Visit www.alexrenew.com/estimate-your-rate to see how much you will billed based on your meter reading.  
Given these investments required by our customers, it's important to us that you – the Alexandria community - understand exactly why we need RiverRenew, how we will implement the program, where and when construction will take place, and what the associated costs will be to complete this critical program. 
First Things First: The Cost  
Image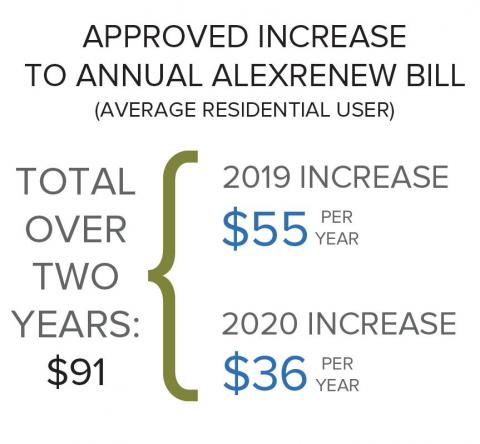 RiverRenew is currently anticipated to cost between $370 and $555 million. This estimate is based on the current conceptual level of design for the tunnel system. As planning and design progress, we will update the cost estimates to reflect the refinement in design. 
As the wastewater agency for Alexandria and portions of Fairfax County, AlexRenew currently funds our services and any improvements to our infrastructure through wastewater bills and direct payments by Fairfax County. Ultimately, we will pay for the cost of RiverRenew through rate increases. AlexRenew will pay for RiverRenew primarily by securing loans, which we will pay off over many years, like a home mortgage. We will incorporate rate increases to cover the debt assumed to build and implement the program. 
The rate increases will fund the loans needed for the RiverRenew program, upgrades to AlexRenew's water resource recovery facility, and for continued management and maintenance of AlexRenew's facilities.  
AlexRenew and the City of Alexandria are working together to obtain federal and state funding to support the program. 
By 2025, sewer bills may be $20 to $40 per month higher in order to fund RiverRenew. Additional rate increases will be necessary in future years for equipment upgrades and replacement. These rate increases will pay for updated and new infrastructure to create healthier waterways for our community, a safer environment for wildlife, and a cleaner community for future generations. 
Image

The Big Issue: Alexandria's Combined Sewer System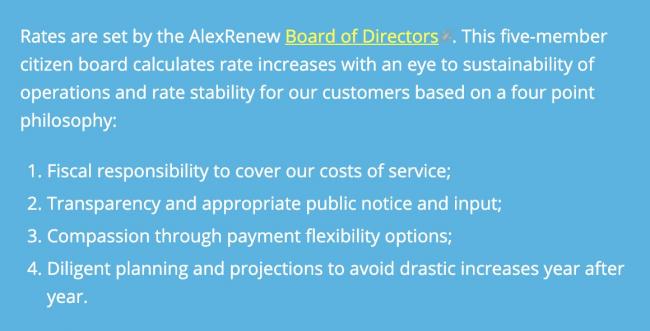 Every year, millions of gallons of sewage mixed with rainwater pollute Alexandria's waterways with bacteria and trash, posing health risks to residents and wildlife. In a combined sewer system, like the one we have in Old Town Alexandria, only one kind of pipe transports both sewage and rainwater. When it's not raining, these combined sewer pipes transport sewage to AlexRenew for treatment. But on rainy days, the capacity of these combined sewer pipes is often exceeded, causing sewage mixed with rainwater to overflow into our waterways via four discharge points, or "outfalls." These overflow events result in an average of 140 million gallons of pollution contaminating the Potomac River, its tributary streams, and Alexandria's waterfront each year.
Image

The Solution: RiverRenew

RiverRenew will feature a new network of deep tunnels and sewers that will connect to the four combined sewer outfalls. With the new tunnel system in place, we'll reduce the number of overflows from an average of 60 to fewer than four each year. Hooffs Run alone will see a 99 percent reduction in discharges of sewage mixed with rainwater.
RiverRenew will prevent millions of gallons of sewage mixed with rainwater from contaminating our rivers and streams. This reduction in the frequency and volume of discharges will limit the amount of bacteria, trash, and other pollutants flowing into local waterways such as Hooffs Run, Hunting Creek, and the Potomac River. By reducing overflows and continuing our everyday commitment to sustainable wastewater recovery, we will achieve cleaner, healthier waterways for Alexandria. 
Image

We're in This Together
AlexRenew has been cleaning our community's used water for more than 60 years. We use technology and innovation to contribute to cleaner waterways, living our mission of protecting public and environmental health every minute of every day. We are an integral part of Alexandria's water system, cleaning an average of 35 million gallons of dirty water daily that is sent to us from homes, schools, and businesses.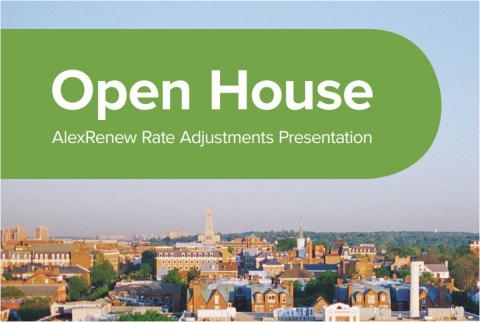 We recognize that these changes are significant – and so are the associated costs. When it comes to a cleaner Potomac and safe, clean water, we all have a stake in contributing toward our future. We will be sharing more information during the coming months about RiverRenew and the investments required to complete this major program by 2025. 
As always, we welcome your questions. Please contact us via email at askriverrenew@alexrenew.com, or by phone at 703-518-6030. You can also find additional information and answers to common questions about RiverRenew at https://riverrenew.com/faq/
Image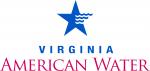 If you have questions about drinking water rates or services, please visit Virginia American Water for more information.
Image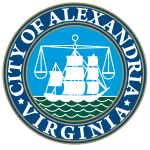 If you have questions regarding the stormwater fee or sanitary sewer maintenance, please visit the City of Alexandria for more information.
Image