AlexRenew Proposes Rate Increases to Fund Alexandria's Clean Water Future
Article Intro Text
Alexandria, Va., March 28, 2019 – Alexandria Renew Enterprises (AlexRenew) is proposing rate increases for the next two fiscal years, starting July 1, 2019 and July 1, 2020, respectively, to help fund its RiverRenew program and to cover normal costs associated with the operation of AlexRenew's existing facilities. The average residential customer will see an increase of approximately $55 per year in their bills (a total of $110 over two years), or just under $5 per month for an average homeowner each year.
Content
Image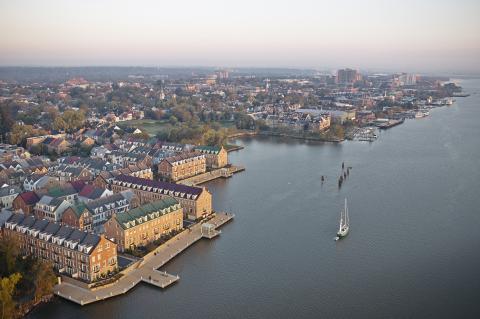 Description
Aerial View of Old Town from the Potomac River
As the wastewater agency for Alexandria and portions of Fairfax County for 62 years, AlexRenew funds its operations and infrastructure improvements through wastewater bills and direct payments by Fairfax County. The proposed rate increases will fund the loans needed for the RiverRenew program, upgrades to AlexRenew's water resource recovery facility, and for continued management and maintenance of AlexRenew's facilities.
AlexRenew is implementing its RiverRenew program to comply with a new Virginia law that requires the City of Alexandria to remediate all four of its combined sewer outfalls by July 1, 2025. The current system was designed in the 1800s and releases a mixture of both sewage and rainwater into the Potomac River, its tributary streams, and Alexandria's waterfront when the capacity of the combined sewer pipes is exceeded during rain events.
RiverRenew will include a tunnel and other improvements that will catch the polluted water before it overflows and store it until AlexRenew can treat it at its wastewater plant. The project will reduce the number of overflows in a typical year from an average of 60 to fewer than four.
AlexRenew and the City of Alexandria are working together to obtain federal and state assistance. However, most of the funding will be through local user charges. As a result, rates will not go down once construction is completed in 2025. Additional rate increases will be necessary in future years to fund additional water cleaning technology improvements and maintain AlexRenew's water cleaning equipment and facilities.
"These rate increases will fund clean water programs that will have a profound and positive impact on our local waterways for generations," said Karen Pallansch, CEO of AlexRenew. "But we also recognize the associated costs and changes to our city's water system are significant. We want to make sure our customers and community partners have every opportunity to share their comments and questions."
AlexRenew will host an open house on Sunday, April 28 from 3 — 5 p.m. to provide an opportunity to learn more about the need for more investment in the health of our waterways through increased rates. The open house will be held at the AlexRenew Environmental Center, 1800 Limerick Street.
The AlexRenew Board of Directors will hold a public hearing to receive public comment on the proposed rate increases on Saturday, May 11 starting at 9:30 a.m., at the AlexRenew Environmental Center, 1800 Limerick Street.
To learn more about the proposed rates, please visit alexrenew.com. Customers can also email askriverrenew@alexrenew.com or call 703-518-6030 to ask questions or request a speaker to share about the RiverRenew program.
###
About Alexandria Renew Enterprises
Alexandria Renew Enterprises (AlexRenew) is an advanced water resource recovery facility serving more than 300,000 customers in Alexandria and parts of Fairfax County, Virginia. Established by the Alexandria City Council in 1952, AlexRenew is a public utility that transforms 13 billion gallons of wastewater into clean water every year to protect public health and the environment. By transforming water and improving local waterways, AlexRenew helps support a higher quality of life and thriving local economy. For more information, please visit www.alexrenew.com.