Take a Tour
AlexRenew has suspended all plant tours on our main campus through 2025 due to ongoing construction that is part of our RiverRenew program. Please visit our alternative tour options during this temporary suspension.
Facility Tours
(Currently Unavailable)
Each year, AlexRenew welcomes hundreds of visitors to our facility, ranging from students of all ages to industry insiders and political dignitaries who want to learn more about how we improve the health of our waterways through a state-of-the-art treatment process and sustainable operations. We are proud to offer tours as a way to educate members of the Alexandria community and help establish a personal connection with our local waterways.
 
Educational Lobby Tour
Resuming Monday, July 12
Inside AlexRenew' LEED Platinum Environmental Center is a world-class community educational lobby. This lobby features museum-quality interactive exhibits that illustrate how much water people use in their homes, how AlexRenew transforms dirty water, and how we recover resources from the water we clean. You can see our reclaimed water in action in our 7,000- gallon fish tank and biowall. School groups and teachers, adult learners, community organizations, water sector professionals, and other community members who want to become better water stewards are all invited to drop by during business hours (M-F 7:30 a.m. to 4:00 p.m.) or request a walking tour. 
 
Four Mile Run Pump Station 
A Self-Guided Tour Experience
With input from neighbors of our Four Mile Run Pump Station, we designed and constructed an interactive, educational fence around the pump station. Located next to Cora Kelly School, it incorporates exhibits that inspire water stewardship and demonstrate water infrastructure. We invite you to visit and learn about how water gets dirty, how it is transported from your home or business to AlexRenew, and how we clean recover resources from your dirty water. Residents can also take advantage of their visit to view the newly restored wetland and walking trail at 4MR park. 
Image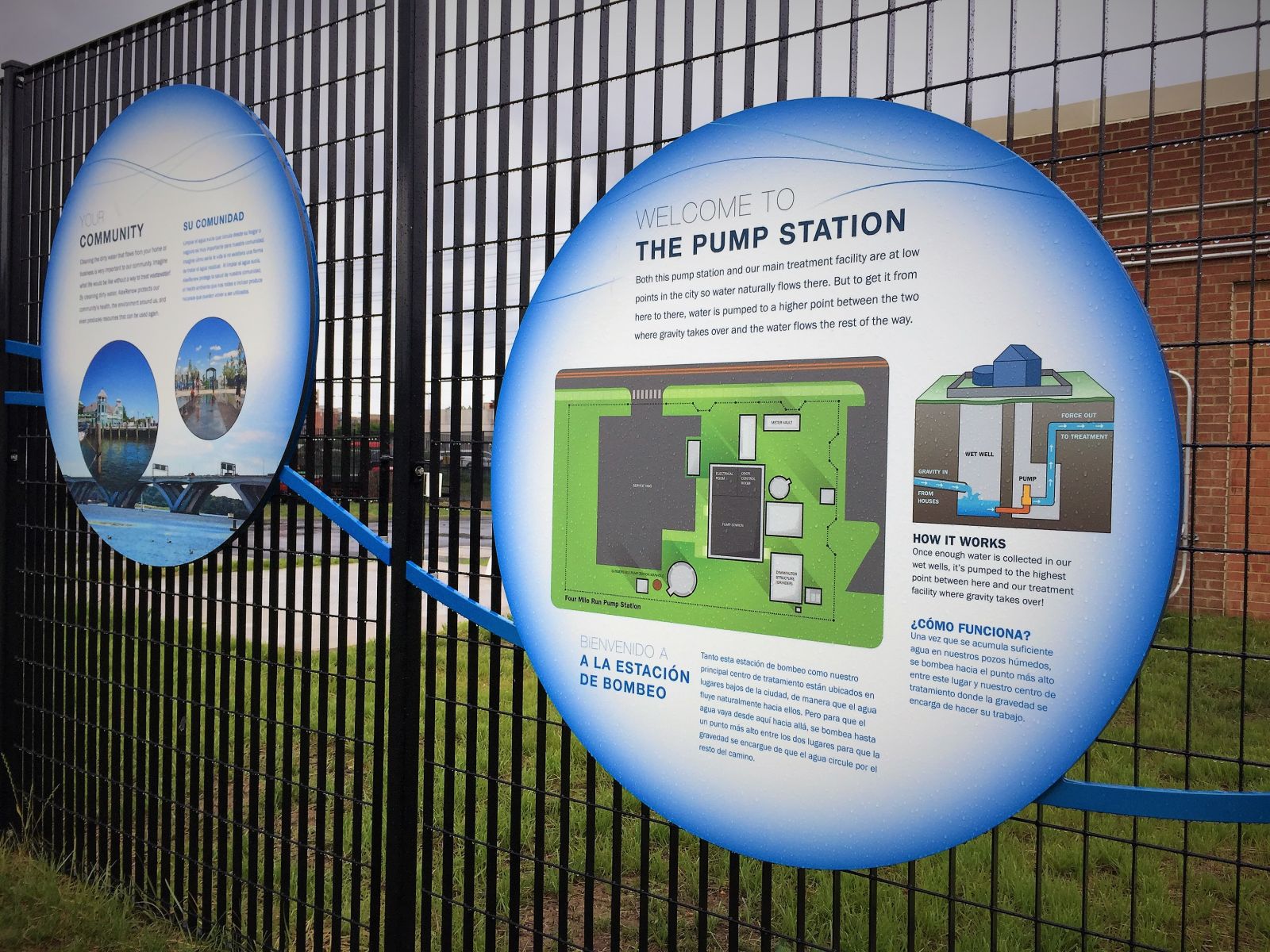 Description
Four Mile Run Pump Station Education Fence
3650 Commonwealth Ave., Alexandria VA 22305
Community Presentations
Presentations are available year-round to student groups, businesses, community groups, civic associations and homeowners associations. Topics range from a basic overview of AlexRenew and wastewater treatment to infrastructure projects and environmental stewardship. 
Virtual Tours
AlexRenew's infrastructure footprint can be found throughout Alexandria City, transporting dirty water from homes and businesses to our treatment facility, where it is cleaned and released into Hunting Creek. Participate in our virtual journeys to learn more about our water renewal process and local waterways!
Water Treatment Tour
Take a virtual tour of our facility and the water recovery process that cleans Alexandria's dirty water!
Watch or pedal your way through this guided bike tour of AlexRenew's off-campus infrastructure! Follow the path of water as it leaves your home or business and makes its way to our water treatment facility.
Learn more about the three water entities that service our city: Virginia American Water (VAW), which provides drinking water; the City of Alexandria, which owns the sanitary sewer system and stormwater infrastructure; and Alexandria Renew Enterprises (AlexRenew), which owns the water resource recovery facility, interceptors, pump stations, and four combined sewer outfalls.

We are continuing to bring new virtual experiences to Alexandria City residents so that we can bring our campus to you. 

Stay tuned for exciting new ways to learn about water transformation!