AlexRenew Adopts Updated Budget to Reflect COVID-19 Impacts to Customers While Continuing Mission to Provide Healthier Waterways
Content
Image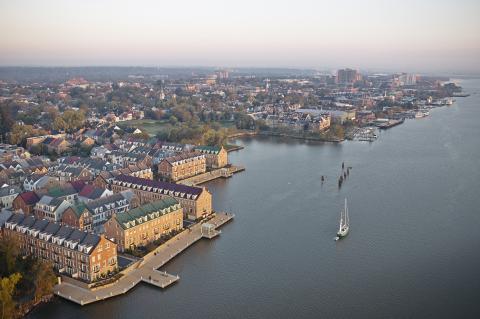 Description
Aerial View of Old Town from the Potomac River
Alexandria, Va. (June 18, 2020) – Alexandria Renew Enterprises (AlexRenew) approved an updated Fiscal Year 2021 budget on June 16, 2020, that acknowledges the impacts that the ongoing COVID-19 pandemic has had on those it serves and the regional community.
The updated Fiscal Year 2021 budget will allow AlexRenew to continue essential operations to clean wastewater while fulfilling its commitment to complete RiverRenew, a state-mandated program to address Alexandria's combined sewer pollution, by the 2025 deadline. The FY21 budget includes reductions in operational expenses, deferral of capital projects, and a reduction in the previously-approved rate increase from 11 percent to 6.6 percent.
The rate increase is needed to support the RiverRenew construction program, parts of which are currently underway, and the bulk of which will be awarded this December. The previously approved-rate increase of 11 percent (approved by AlexRenew's Board in 2019) was reduced to 6.6 percent, balancing the need to fund the mega project while acknowledging the pandemic's financial burden to the community. The reduced rate increase will be effective July 1, 2020. The average residential customer could see an average monthly bill increase of less than $3 per month with this approved increase.
With three of the four RiverRenew projects under construction, and design moving ahead on the tunnel project, there is greater price certainty for RiverRenew. This allowed AlexRenew to secure preliminary commitments for low-interest loans through state and federal programs. Additionally, in April 2019, the Virginia General Assembly appropriated a $25 million grant in support of RiverRenew.
AlexRenew and its Board analyzed a number of proposed budget solutions to continue essential operations and keep RiverRenew on track. The solutions to be implemented include deferral of capital projects (with the exception of those currently underway and those needed to support RiverRenew), freezing performance pay increases for AlexRenew staff, implementing hiring freezes, and reducing discretionary operating funds where applicable.
"We understand the impact COVID-19 has had on the lives of Alexandrians, and we have adapted to continue to serve our community 24/7/365 by keeping our community healthy through cleaner waterways," says Karen Pallansch, AlexRenew CEO. "AlexRenew remains focused on fulfilling its vital mission to manage wastewater and improve the waterways that connect us."
For additional information, please contact Rich Bindell, Strategic Communications Specialist for Alexandria Renew Enterprises, at rich.bindell@alexrenew.com or by calling (703) 549-3381, ext. 2231.
 ###
 
About Alexandria Renew Enterprises
Led by a five-member citizen board, Alexandria Renew Enterprises (AlexRenew) is a special purpose authority that has been serving the City of Alexandria and parts of Fairfax County for the last 60 years. AlexRenew treats an average of 35 million gallons of wastewater per day, from more than 300,000 people, at its water resource recovery facility, located in Alexandria's southwest quadrant.