Environmental Impacts
AlexRenew is committed to watershed stewardship and protection; we strive to provide Alexandrians with opportunities to embrace water resources and establish personal connections with local waterways.
AlexRenew is one of the most advanced, sustainable, and innovative water resource recovery facilities in the United States.  Every year, AlexRenew cleans over 13 billion gallons of used water and reuses the byproducts of our water cleaning process to support a physically and economically healthy city. AlexRenew reuses all available resources in our processes to create a sustainable operation that saves money and reduces greenhouse gases. AlexRenew serves over 300,000 people in the City of Alexandria and parts of Fairfax County.
Image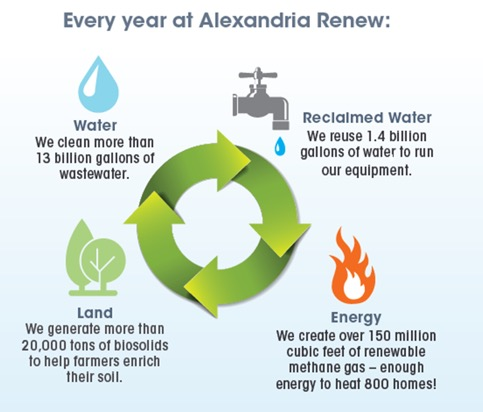 Since our founding in 1952, our customers have invested almost one billion dollars in water cleaning equipment, facilities, and technology to aid our team of water professionals in cleaning used water to ensure healthier waterways for a sustainable community.
To execute on our board's vision and ensure sustainability is woven throughout the organization, our policies, procedures, and public outreach efforts allow us to operate efficiently while educating our community about wastewater cleaning processes and impacts. Through these initiatives, we are supporting a healthy and resilient natural environment and improving the quality of life for our customers.
How Does AlexRenew Limit Negative Environmental Impacts? 
AlexRenew follows the International Organization for Standardization (ISO1) 14001 certification that provides a framework and guideline for designing and implementing a successful Environmental Management System (EMS). Our EMS implements best management practices for pollution prevention, waste management, regulatory compliance, and hazard mitigation to reduce incidents while improving AlexRenew's reputation, regulatory performance and environmental footprint. We include EMS and Stormwater Awareness Training in new hire orientation, and all employees receive annual refresher training to recognize, prevent, and manage environmental impacts. AlexRenew undergoes internal audits every year and an external third-party audit every three years to ensure continual improvement, ISO 14001 compliance, and conformance with internal and legal requirements. If AlexRenew employees identify non-conformances or opportunities for improvements, Corrective Action Notices are issued to identify root causes and preventative actions to resolve the issue. 
What Other Environmental Initiatives Does AlexRenew Have? 
AlexRenew has a Pollution Prevention Program that identifies low and no-cost efforts to improve our environmental footprint, including:
Our business practices utilize efficient and low-waste processes, including purchasing recycled printer paper and incorporating sustainability clauses into purchasing contracts.
We use dual natural gas and methane boilers that utilize naturally produced digester gas, offsetting purchased natural gas by almost 25 percent.
We have minimized hazardous waste generated from our laboratory by batching and running samples less frequently.
Our Sort, Set in order, Shine, Standardize, and Sustain (5S) program increases efficiency, promotes recycling, and creates a safe and clean work environment.
In 2016, we completed a capital improvement project modifying the biological treatment processes to utilize Anammox bacteria, thereby reducing nutrient discharge while saving electricity and decreasing the number of chemicals required for the treatment processes. This upgrade has significantly reduced our hazardous material and methanol usage.
Farmers using our biosolids reduce demand for synthetic fertilizer, maintaining healthier waterways, and eliminating sources of runoff.
What Can YOU Do to Better the Environment?
To take care of your pipes, save money, and protect the environment, follow these rules:
Flush only toilet paper; do not flush hair, personal hygiene products, cigarettes, rags, or cleaning wipes.
Use natural herbicide to kill weeds.
Do not put paper towels down the drain.
Do not put grease down the sinks or toilet.
Do not flush unused medications;
Scrape all food scraps into the trash.
Learn how WaterSense labeled products provide simple ways to save water and more water-saving tips.
Click here to learn more about the Cost of a FLUSH!
Need to Dispose of Expired or Unused Medications? 
Show your commitment to Alexandria' waterways by participating in local environmental initiatives: 
AlexRenew always strives to do our best to be Environmental Stewards and lead by example as clean water advocates. As a result, our programs and initiatives reflect our core beliefs/environmental policy. We also ensure to have an active public outreach presence to offer the community a wide variety of opportunities to learn more about AlexRenew and the importance of clean water. Our goal is that by 2040, the people of Alexandria will have the opportunity to embrace the best use of water resources and establish a personal connection with local waterways. We will sustainably manage water as a single resource throughout the entire water cycle. AlexRenew is committed to creating a healthy environment and improving our quality of life through the exceptional reclamation of used water resources while maximizing the use of multiple financial options to continue our fiscal stability.
Image