Rates and Billing for Residential Customer
Your AlexRenew payment does quite a bit. Not only does it help us clean your dirty water, it also helps ensure that future generations will be able to swim and fish in local waterways. Both the Potomac River and Chesapeake Bay are the healthiest they've been in years thanks to your investment. Yet, to continue this water quality success, more is continually asked of us as your wastewater treatment provider.
In 2019, AlexRenew's Board of Directors approved two rate increases to start on July 1, 2019 and July 1, 2020, to support the RiverRenew program. From July 1, 2019 to June 30, 2020, residential customers saw an increase of approximately $55 (just under $5 per month for an average homeowner). On June 16, 2020 AlexRenew's Board of Directors reduced the previously-approved rate increase, balancing the need to fund the mega project while acknowledging the pandemic's increased financial burden on the community. From July 1, 2020 to June 30, 2021, the average residential customer can expect to see an average monthly bill increase of less than $3 per month (approximately $36 for the year).  Please click here for more information about the rate increases. You can also view our Rates, Rules, and Regulations guidelines by clicking here. 
What makes up your AlexRenew bill?
Your monthly wastewater treatment bill is comprised of three parts:
Base Charge: $12.34
This is a fixed amount determined by the size of a customer's water meter. The base charge allows AlexRenew to recover its fixed costs to install, maintain and improve its water sanitation facilities and equipment, as well as provide service, regardless of the volume of water used by its customers.
Wastewater Treatment Charge: $8.69 per 1,000 gallons
This charge is based on your water use as reported by Virginia American Water Company. It is calculated based on your indoor water use and is capped at your average monthly water use during the winter months of December, January, and February*.
If you have questions about your meter readings, or if you would like to inquire about a leak adjustment, please contact Virginia American Water at 1-800-452-6863.
City Sanitary Sewer System Capital Investment and Maintenance Fee: $2.28 per 1,000 gallons
This fee funds the operation and maintenance of the City's sanitary sewer system. This fee is also based on your water use from Virginia American Water but is NOT subject to the winter average billing cap*.
For sewer line maintenance, please contact the City of Alexandria at 1-703-746-4357.
*AlexRenew calculates wastewater costs for March through November based on the amount of water used during the three consecutive winter billing months of December, January, and February. Since water use during these months is typically only indoor household use, it is a good measure of the volume flowing into your wastewater system. If a customer has no flow or a flow below 4,000 gallons, the default winter average is set at 4,000 gallons.
Late fees and bad check penalties 
A 10 percent late fee is levied on outstanding balances not paid by the due date. Bad checks and electronic payments not honored by the customer's bank are subject to a $35.00 fee. 
Who sets our rates? 
Rates are set by the AlexRenew Board of Directors. This five-member citizen board calculates rate increases with an eye to sustainability of operations and rate stability for our customers based on a four point philosophy:
1. Fiscal responsibility to cover our costs of service;
2. Transparency and appropriate public notice and input;
3. Compassion through payment flexibility options;
4. Diligent planning and projections to avoid drastic increases year after year.
Our rates for cleaning Alexandria's water are comparable with other local water cleaning agencies as well as those across the country. This University of North Carolina Water and Wastewater Rates Dashboard compares rates across Virginia annually. This graphic by Circle of Blue also compares the price of water, sewer, and stormwater across the U.S. 
Image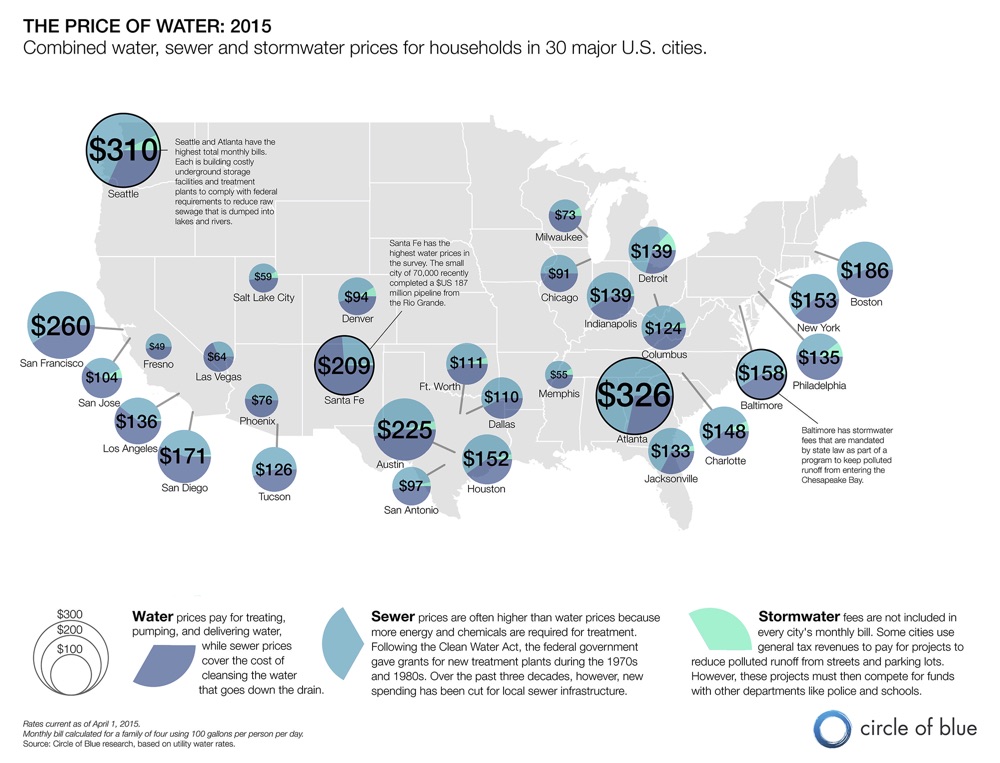 How does your investment benefit our community?
The investments we make in our technology and infrastructure allow us to clean up to 54 million gallons of water every day. Currently, we transform more than 13 billion gallons of dirty water into clean water each year.
The region's wastewater utilities, including AlexRenew, have played an instrumental role in bringing local water quality to its highest level in several generations. 
Less than 50 years ago, the Potomac River was labeled a national disgrace for having one gallon of raw sewage for every six gallons of water. 
The Potomac River, Chesapeake Bay and other local waterways are the healthiest they've been in years.
The regional water community has achieved critical nutrient reduction goals 10 years ahead of schedule. 
Is AlexRenew a for-profit business? Is it a division of the City of Alexandria government?
We're actually neither. AlexRenew is a political subdivision of the Commonwealth of Virginia.  We do not make profits, have shareholders or pay dividends. Instead, we provide clean and safe water, every hour of every day, at a stable rate, year after year.
Why do you have two water bills – and why is your AlexRenew bill sometimes higher?
Most Alexandria citizens receive two separate bills from Virginia American Water, who provides clean water to your home, and AlexRenew, who cleans your dirty water once it goes down your pipes.
Transforming your dirty water into safe and clean water is a more complex – and as a result, costlier – process than bringing drinking water into your home. By thoroughly transforming your dirty water, we can ensure your local waterways — the source of much drinking water — are as healthy and safe as possible. 
Image