Image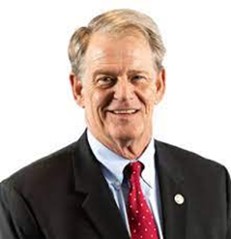 Kerry Donley was elected to the Alexandria City Council in 2009.  His election marked his second stint on City Council as he was first elected in 1988.  Kerry served as Mayor of Alexandria from 1996 to 2003, and he was Vice Mayor from 1994 to 1996 and again from 2009 to 2012.
During his time on Council and as Mayor, Kerry worked to resolve some long-standing issues such as settlement of the construction of the Woodrow Wilson Bridge, zoning at Potomac Yards and the redevelopment of the Samuel Madden Homes.  He was also instrumental in the attraction of the Patent and Trademark Office to Alexandria, located in the Carlyle section of the City.  While Mayor, the City embarked on a number of capital improvements, namely Samuel Tucker School and the Charles Beatley Library along with renovations to a number of recreation centers.  On a regional basis, Kerry was instrumental in the creation of the Washington Area Housing Trust Fund (now Open Door Housing).  For his dedicated public service, Kerry was recognized by the Metropolitan Washington Council of Governments in 2002 with the Skull Award, and he received the Business Leader of the Year by the Alexandria Chamber of Commerce in 2004.  In 2012 he received the Phyllis Campbell Newsome Award for Public Policy Leadership.
During his tenure in office, Kerry has served a number of local boards including the Cameron Station Development Task Force (Co-Chair), the Alexandria Campaign on Adolescent Pregnancy (Chair), the Youth Policy Commission and the Alexandria Economic Development Partnership (Chair).   He has also served on regional and state boards including the Virginia Municipal League's Board of Directors and its Legislative Committee, the Washington Area Housing Partnership, the Northern Virginia Transportation Commission and MWCOG Board of Directors.  Kerry has served on the Alexandria Transit Company Board (DASH) as Vice Chair.  In the community, Kerry has served on a number of community non-profit boards, including Carpenter's Shelter, First Night Alexandria, and the Scholarship Fund of Alexandria.  He presently chairs the boards for Center for Alexandria's Children and Alexandria Senior Services and serves on the board of the Business Finance Group.  
Kerry is a graduate of Marquette University, and he has done graduate work at the University of Southern California.  Professionally, Kerry was a Senior Vice President, Community Banking at John Marshall Bank, and he spent three years as the Athletic Director at T. C. Williams High School.  He retired from banking in 2021.
Kerry resides in Seminary Valley with his wife, Eva.  They are the proud parents of five daughters, and they have five grandchildren.