Deadline Extension for Sanitary Sewer Bill Relief for AlexRenew Customers with COVID-19 Financial Hardship
Content
This article has been updated as of Monday, January 11, 2021. The deadline for applying for sanitary bill relief has been extended. To be eligible for sanitary sewer bill relief, customers must complete a form to certify that they are experiencing COVID-19 financial hardship.
The Commonwealth of Virginia recently passed a revised budget, which offers potential relief via CARES Act funding to customers who are experiencing financial difficulties due to COVID-19. This budget legislation also established a disconnection moratorium for utilities in the Commonwealth, including AlexRenew, and requires AlexRenew to inform customers that Repayment Plans are also available.
To support its customers in need, AlexRenew has applied for these Virginia CARES Act funds. Qualified customers may receive relief for some portion of their outstanding balance accrued since March 1, 2020. Funds will be made available first to customers with outstanding balances more than 60 days old. If funds remain, customers with balances more than 30 days old will also be eligible for bill relief. Additional financial assistance may be available for individuals experiencing other financial hardship due to COVID-19 through the City of Alexandria's Department of Community and Human Services – for more information, call 703.746.5700, text 703.746.5599, or visit www.alexandriava.gov/Coronavirus.
To be eligible for sanitary sewer bill relief, please complete the online form below to certify to AlexRenew you are experiencing financial hardship due to COVID-19. Eligible customers will also receive a form via mail which can be completed and mailed or scanned and emailed to covidbillrelief@alexrenew.com. 
Click on the image below to access the form. 
Image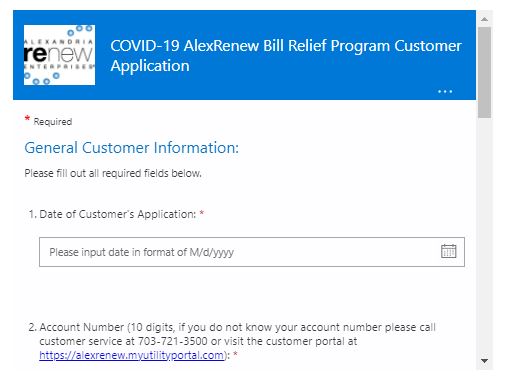 Image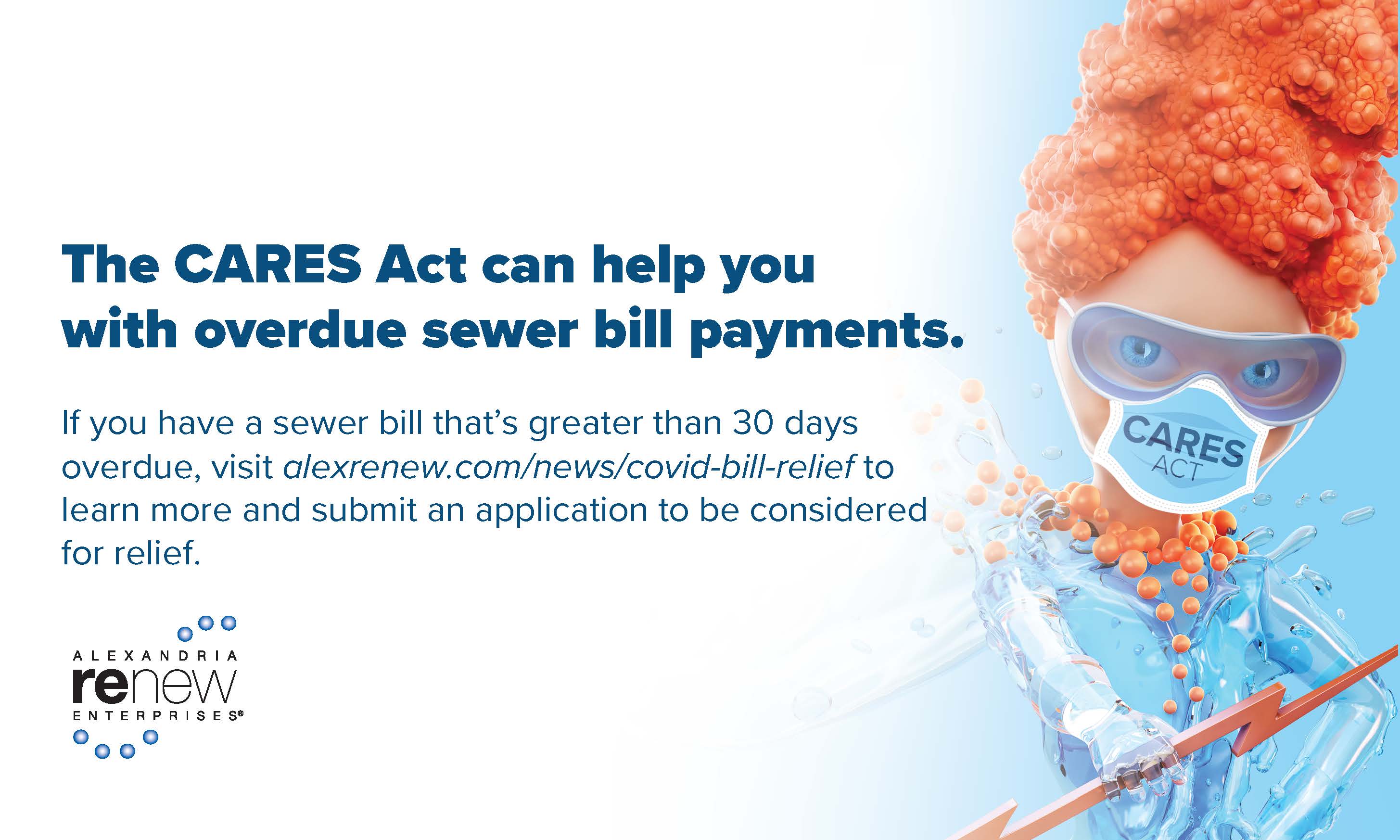 AlexRenew remains committed to its vital mission to keep the community healthy through healthier waterways. For further questions, please call AlexRenew's Customer Service at 703-721-3500, and select Option 1, or send an email to billing@alexrenew.com.