Sanitary Sewer Bill Relief Available for AlexRenew Customers with COVID-19 Financial Hardship
Content
Overview of AlexRenew's COVID-19 Bill Relief Program:
To support its customers in need, AlexRenew is offering sanitary bill relief via CARES Act funding to customers experiencing COVID-19-related financial difficulties. Eligible customers may receive relief for some portion of their outstanding balance accrued since March 1, 2020. Following distribution of initial funding to customers in March 2021, AlexRenew is continuing efforts through a new partnership with PromisePay to distribute remaining funding to eligible customers. 
About PromisePay: 
Promise is a modern technology platform that offers payment solutions and affordability programs to the customers of utilities (like AlexRenew) facing financial hardships in paying their bills. Promise's convenient payment options and customer engagement makes it simple for struggling customers to enter into alternative payment arrangements or qualify for other hardship programs such as COVID-19-related bill relief.
How to Apply: 
PromisePay will be contacting all eligible AlexRenew customers, including customers who have previously applied for bill relief from AlexRenew. Customers may also visit https://alexrenew.promise-pay.com/ to check eligibility requirements and certify to AlexRenew their need for bill relief due to COVID-19-related financial hardship. 
AlexRenew is collecting attestations from eligible customers and will award customers proportionally once it completes the process of collecting attestations. In addition to bill relief, flexible repayment plans are also available.
Additional Financial Assistance Resources:
Additional financial assistance may be available for individuals experiencing other financial hardship due to COVID-19 through the City of Alexandria's Department of Community and Human Services. For more information, call 703.746.5700, text 703.746.5599, or visit alexandriava.gov/Coronavirus.
AlexRenew's COVID-19 Bill Relief Program History:
In November 2020, the Commonwealth of Virginia passed a revised budget, offering potential relief via CARES Act funding to customers experiencing COVID-19-related financial difficulties. This budget legislation established a disconnection moratorium for utilities in the Commonwealth, including AlexRenew, and requires AlexRenew to inform customers that Repayment Plans are also available.
AlexRenew remains committed to its vital mission to keep the community healthy through healthier waterways. For further questions, please call AlexRenew's Customer Service at 703-721-3500, and select Option 1, or send an email to billing@alexrenew.com. 
Image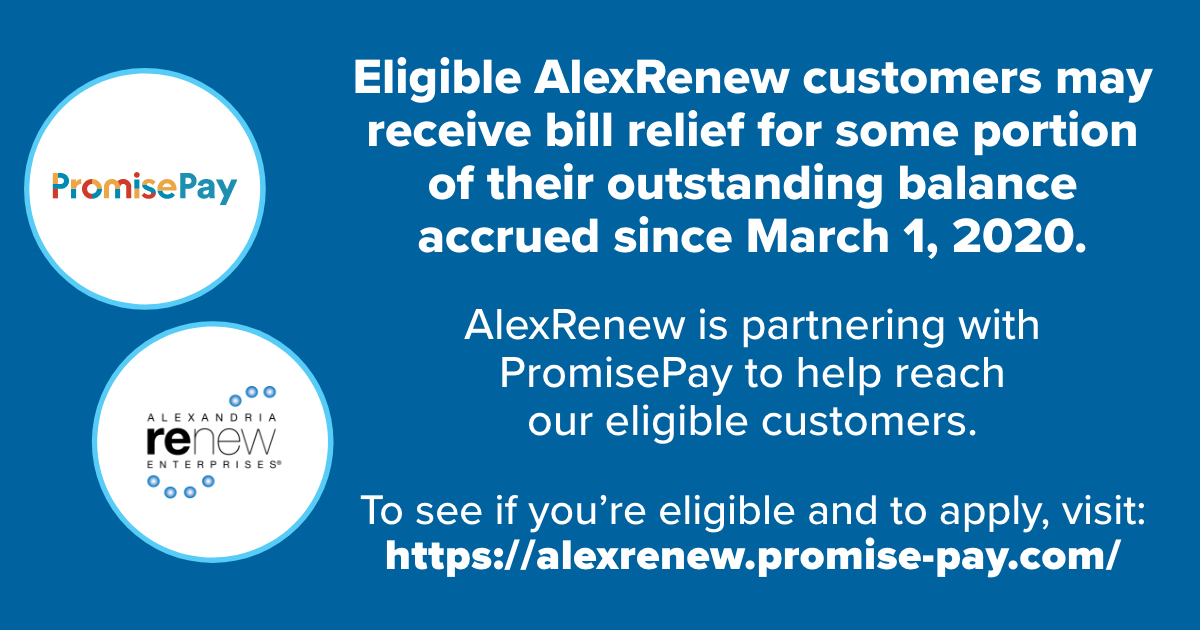 Description
Graphic for Promise Pay Partnership