Education Center
AlexRenew provides education and outreach to Alexandria City Public Schools (ACPS), community groups and individuals interested in learning about water treatment and sustainable initiatives in our water recovery process. Our outreach includes working with Alexandria residents to support community engagement and collective impact for a healthier watershed and local waterways.
STEM Lessons
AlexRenew's school outreach program focuses on delivering water-based lesson plans to Alexandria City Public Schools as well as local private and home school groups. Our supplemental lesson plans bring Virginia Standard of Learning (SOL) aligned, interactive activities to 3rd and 6th grade students. Visit Lesson Plans page to learn more.
AlexRenew employees serve as judges for local ACPS science fairs and participate in the regional Student Environmental Action Showcase. To request employee participation in a science fair competition contact our communications and outreach team below.
Take A Tour
Image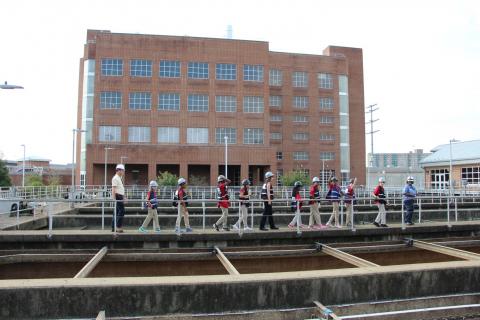 AlexRenew provides a variety of tour options for Alexandria City residents. Currently we are not providing in-person facility tours, but we have developed virtual tour options of our water treatment process, water distribution and flow throughout the city, and watershed conservation and protection among other virtual activities. Our community outreach and education staff are also available for community presentation requests. Visit Take A Tour to learn More.
Additional Resources
Water-Themed Reading Room!
(Currently closed to the public)
Get ready for another creative way to learn about water in Alexandria! AlexRenew has officially opened Moxie's Aquatic Alcove, Virginia's first water-themed reading room, which features books focusing on water, engineering, the environment, and STEAM (Science, Technology, Engineering, the Arts and Mathematics) programming for all ages and reading levels. In addition to the featured reading materials, the reading room also includes interactive play stations and activities for children.
Moxie's Book List
Moxie is Alexandria's water-cleaning, nitrogen-eating hero! She has a passion for protecting clean water, and she loves STEAM — science, technology, engineering, art, and math. Moxie wants you to get excited about inventing, exploring watery worlds, and learning all about clean water. That's why her reading recommendations list is packed with children's books that feature water and celebrate discovery.
Image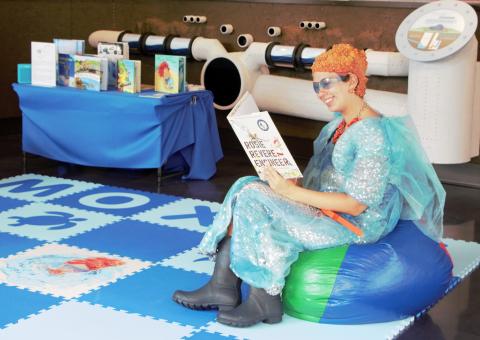 H2O Stewardship: How to Take Action at Home
Community Presentations
Presentations are available year-round to student groups, businesses, community groups, civic associations and homeowners associations. Topics range from a basic overview of AlexRenew and wastewater treatment to infrastructure projects and environmental stewardship. 
Community Events
AlexRenew participates in large and small events alike including Alexandria's Earth Day and One Water's annual Water Discovery Day as well as smaller community events like Bike to Work Day and Drug Take-Back Day throughout the year. AlexRenew uses interactive games and trivia to educate event attendees about wastewater treatment and water conservation and protection. Visit our event page and follow us on our social media platforms to learn about upcoming events!